Android App Development Company
Custom Android App Development Services for Businesses and Startups to Engage More Users Effectively
Getting a reliable organization that offers quality service on mobile technology has become very difficult for new businesses, big and small organizations including all kinds of business outfit. Satva Solutions offers quality service on android technology for your Android app development project. We assist organizations in increasing their operational abilities, budget and stay relevant in the technology industry.
Key Offerings
At Satva Solutions, our expert team specializes in offering services for Android Specific Design to Android OS Customization.
Android is the most globally used the mobile operating system all over the world and also one of the difficult ecosystems with lots of phones of various shapes, makers and structures.
Our Android app development service is in sync with the best in class Android architectural standards and total knowledge of comprehensive Android ecosystem which helps us create scalable and durable Android applications across Android platforms such as Android phones, tablets, TVs and wears.
Kindly go through our collection of outstanding Android applications created by us. Choose scalable and sustainable apps made with excellence.
Qneo
Coupons and Business | Qneo is a mobile app which delivers a bundle of coupons from local area businesses to users in the Siouxland area every day and every time. This Xamarin mobile app offers a platform where its users can easily find small, local and international businesses. Being a cross-platform application, it works for all kinds of desktop and mobile devices like iPhone and Android.
With the help our of a professional team of Xamarin app developers, we have been able to develop a cross-platform mobile app that is user-friendly and fully functional on iPhones, tablets, iPad, Windows, Blackberry as well as several other mobile devices. The Xamarin mobile app is affordable and it features an attractive UX/UI design with easy touch and an excellent user experience. We made use of certain Microsoft.NET technologies for the Xamarin app development project. Let's have a look at them.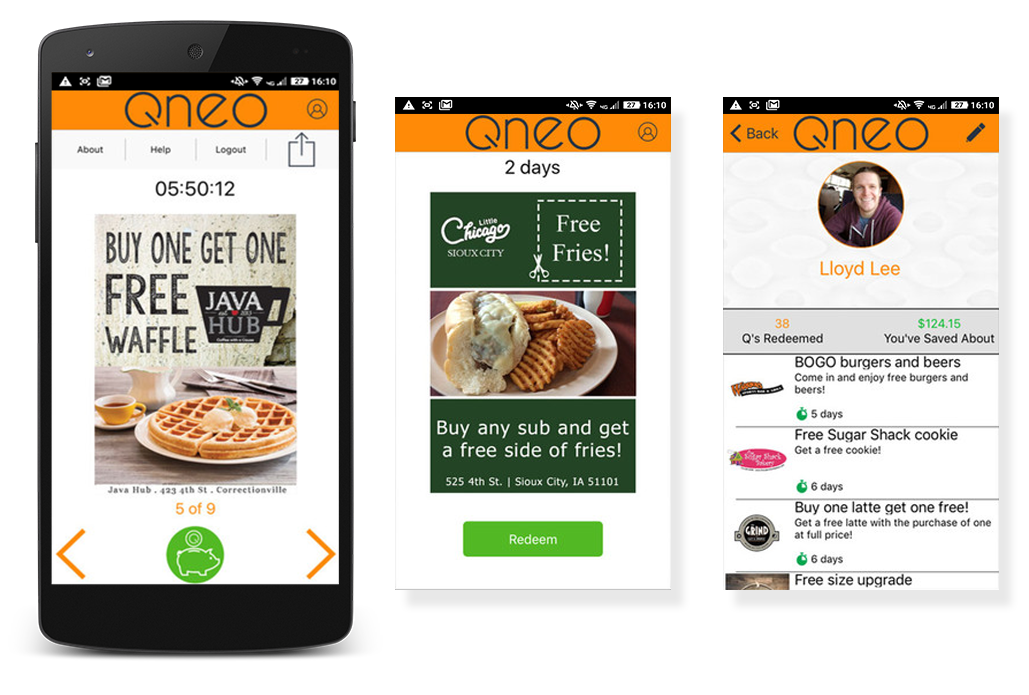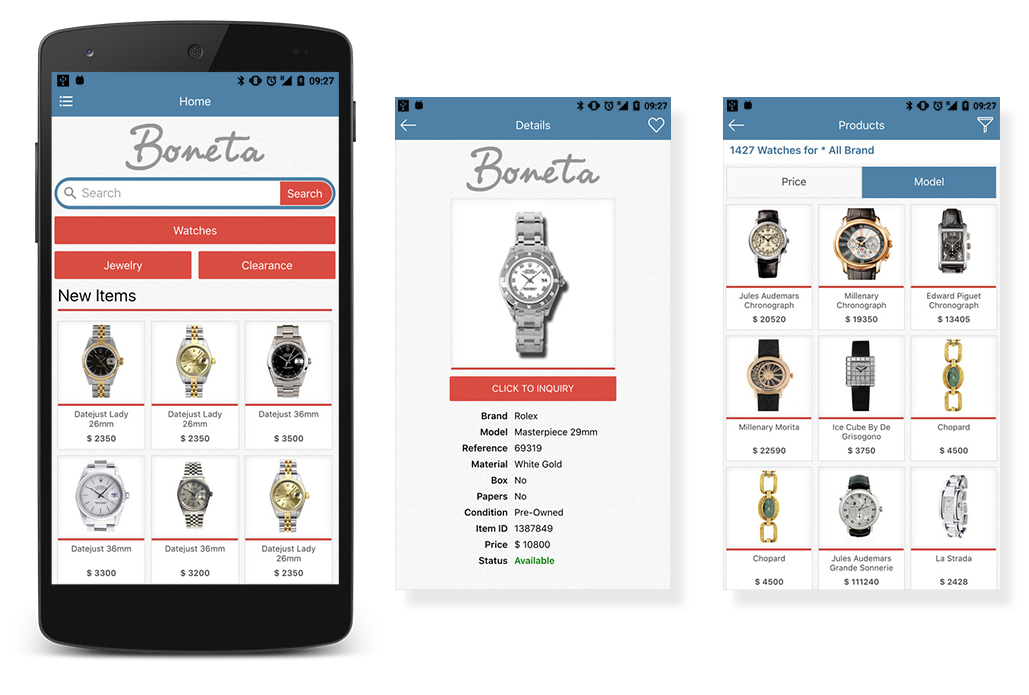 Online Watch Selling
Watch Selling Business CMS | This mobile app is the Cross-Platform eCommerce Mobile App is to online watch selling services. Our team of Net Developers is dedicated to the development of the Ionic app and has been able to create a user-friendly mobile app that works smoothly on all platforms. This means that users can easily access the app with the use of their mobile device whether it is an android, iPad, iPhone, Tablets, Windows, Blackberry and more.
What makes this Ionic mobile app unique is that they are characterized by an attractive UX/UI Design coupled with smooth navigation, easy touch, and superior user experience. We made use of certain Microsoft.NET technologies for the Ionic app project. Let's have a look at them.
Rent A Car
Car rental business | This the cross-platform mobile application for car rental business. We initially launch as an iOS native mobile application and after we exported for all platforms. very light map and payment integrated with push notification features. Lightweight and responsive with attractive UX and UI.
At Satva Solutions, we have a team of skilled Android app developers who possess great knowledge about mobile technology which helps us create apps that are highly efficient and budget-friendly.
Push Notifications

In-app Purchase

Payment Gateway

Gradle

Maps

Google Play Store

Caching

Touch ID

Canvas Drawing

Image Processing

Interface Orientation Support
OAuth authorization

Hardware Integration

Geofencing

Location Tracking

Audio

Canvas Drawing

Caching and Sync

Social Integration

Background Processing

ORMLite

Multi-Device Sync
AchartEngine

SlidingMenu

RoboGuice

EventBus

Retrofit

Holo Everywhere

Android NDK

Android Auto

Android Wearables

Material Design

Version Change Support
Memory Management

Image Processing

All Device Support

Video and Camera Handling

Bluetooth Communication

Mapkit

Multipeer Communication

Chat/Socket Communication

Encryption-Decryption

Offline Support

Custom Fonts & Security
Android App Development Process
What makes our apps outstanding is the delicate process we go through in creating every application; starting with thinking up an idea, creating it and releasing to the play store.
Hire Android App Developer Today
If you are on the lookout for a professional Android App development company, then look no further than Satva Solution. We are the go-to source for your custom App development and we are masters in the development of Android/Tablet App solutions using Android SDK.
Tools and Technologies
Agile and highly scalable tech stack to develop your mobile apps with the Android app development company.
Satva Solutions makes use of native Android SDK which contains native packages and support libraries offered by Google Android development kit. We make use of Android Studio (IDE) in creating Android applications hosted by Google Android developer program. We combine the Native Android Google kit with a framework created by Satva Solutions to assist developers in making large and powerful applications that improve user experience and efficiency. Here are the different versions.

How Much an Android App Development Costs?
Contact us to get a free quote for your design and development of Android/Tablet Apps. Our services are available in USA, Canada, UK, UAE, Australia, Russia, Switzerland, Jordan, Kuwait, Belgium, Sweden, Italy, Denmark, Germany, France, Mexico, Singapore, Netherlands, Bulgaria, Ecuador and other parts of the world.
Android Application Architecture and Best Practices
At Satva Solutions, we are very concerned about code quality and sustenance of applications. Our mantra is "after functional correctness, maintainability of the code base is the highest virtue." To get this we have taken some precautions to make sure that our team keeps creating sustainable code for every app we design. The steps we take in designing applications includes having object oriented principles, uniqueness in every design and "one class, one responsibility' principles.  
We make use of architectural patterns when creating our code base in order to make sure that other programmers are able to decipher the tools they need to work with.    
We also follow strict coding conventions and code formatting guidelines to make sure that the code is legible and easy to work with.
Here are the best practices we adhere to in order to protect mobile phones and vital information stored on them.  Various applications require diverse security measures. We put to consideration the type of app being made to create the right protective mechanisms like:
Implement File Permissions

Implement Intents

Use Broadcasts

Implement PendingIntents

Protect Application Services

Avoid Intent Sniffing

Implement Content Providers

Follow WebView Best Practices

Avoid Storing Cached Camera Images

Avoid GUI Objects Caching
We have created so many apps with future state architectures for Android devices. This has helped improve our knowledge on Android Studio, which offers a lot of useful tools needed in creating apps. We code in Java via Android Studio and adhere to the best Android coding practices to create efficient and sustainable apps.
Our skilled application developers have created apps for a lot of domains and different industries, which has helped improve their efficiency in creating apps for different platforms.
Social

Entertainment

Education

Healthcare

Retail

Fitness & Wellness

Sports

Safety
It takes great understanding of design guidelines and materials to be able to create an Android application. We work with the best design practices and usually impress the need to use Android specific app designs.
In testing Android apps, one needs to be extremely cautious because Android is fragmented OS that includes tools from numerous manufacturers. We have created a test lab with 150+ devices to verify applications on different devices. This has helped us in ensuring that consumers are satisfied in the end.
Requirement Understanding and Analysis

Defining test cases and then recursive testing done with following modules

Validation Testing

Black box Testing

Usability Testing

Accessibility Testing

System Testing

Compatibility Testing

Functional Testing

Unit Testing

Integration Testing

Regression Testing

Load Testing

Deployment Testing

Deployment Checklist & Verification
Why Satva Solutions for Android App Development
At Satva Solutions, Android app development is what we know how to do best. We have worked with almost every Android OS version, Google Android OS customization and have created many difficult Android app solutions which have helped improve our skills over the years. We have a team of over 50 dedicated Android developers who puts in all effort into designing the best custom native and hybrid apps for Android phones, tablets and wearable devices.
We focus on creating quality Android applications that are powerful, large and offer exceptional user experience. We have been practicing for years and have gained lots of experience in Android application development using complex devices such as Android SDK, Android Studio etc. As one of the best Android app development companies, we research and create apps using standard app development and testing tools.
Business Benefits With Us
Offers 30-60% cost savings compared to in-house or local development

Strong technology competency to offer end-to-end mobility solutions

Handling Android development since the release of Android SDK

Flexible engagement models and proven methodologies

Hire in-house developers from the pool of 10+ skilled android developers

Flexible app support and maintenance engagement to enhance efficiency

Better control over development process and on offshore development team from India

Experience of developing 100+ Android and Tablet applications

Source code protection and 100% confidentiality assurance

Lowers the risk of unavailability, confidentiality and less control than hiring Android freelancers

Reduces infrastructure, software, hardware and device investment

Expertise in building complex Android app solutions

Allows quick and flexible access to unique and supplemental IT skills